The Vermont Astronomical Society is located in the Burlington, Vermont area with monthly meetings in Essex Junction and an observatory in Hinesburg.  Please contact us for further information or to arrange a presentation or
observing session for your school or group.
You can go to the Membership page for membership info.
Vermont Astronomical Society    P.O. Box 782    Williston, Vermont 05495
Email us at:
or call any of the following VAS officers:
President:
Jack St. Louis, 802-658-0184
Vice-President:
Joe Comeau,  802-238-1664
Secretary:
Paul Walker, 802-388-4220
Treasurer:
Terri Zitteritsch, 802-598-7226
Board Members at Large:
Rev. Bill Wick, 802-485-7877
Bob Horton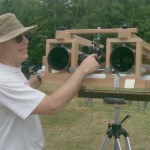 Gary Nowak, 802-879-4032
Projects Coordinator:
Dennis Woos, 802-453-2360